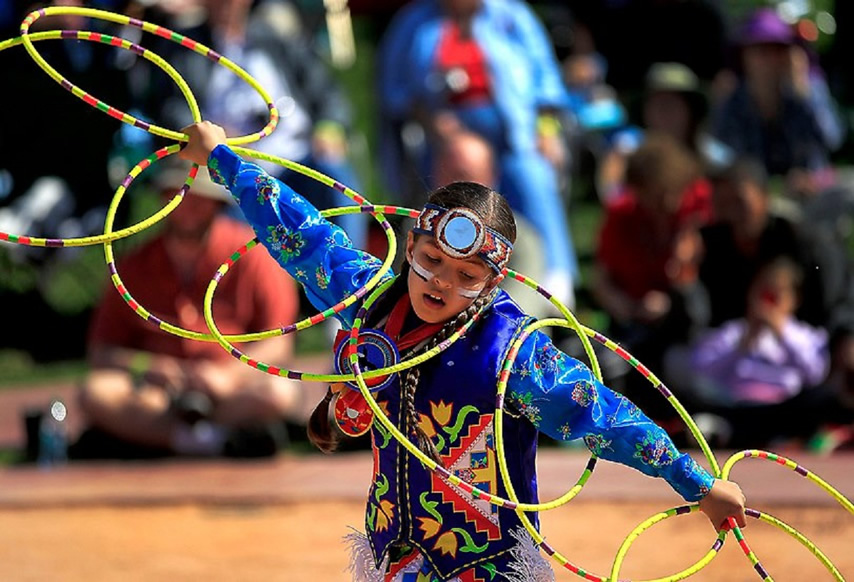 Going back for centuries, the Hoop Dance is a storytelling dance, which incorporates from 1-40 hoops to create both static and dynamic shapes. These formations represent the movements of various animals and other storytelling elements. In its earliest form, the dance is believed to have been part of a healing ceremony designed to restore balance and harmony in the world. With no beginning or end, the hoop represents the never-ending circle of life. The hoops, typically made of reeds or wood, are used to create symbolic shapes, including butterflies, turtles, eagles, flowers, and snakes.
There are several tales of how the dance originated. Some say the Creator gave a series of wooden hoops and the "dance" to a dying man from the Northern Plains who wanted a gift to leave behind. Another story in the Southwest tells that the hoops were developed by cliff-dwellers for children to learn dexterity.
A more prominent legend has the Hoop Dance originating in the Anishinaabe culture, when an unearthly spirit was born to live amongst the people. The boy did not show any interest in typical boys activities such as running and hunting, preferring to be alone and watch animals. This caused his father to shun him and earned him the name Pukawiss: the disowned or unwanted. However, the boy continued to watch the movements of eagles, bears, snakes, and birds and before long was spinning like an eagle in flight, hopping through the grass like a rabbit, and created the Hoop Dance to teach the other Indians about the ways of the animals. Before long, Pukawiss was so popular that every village wanted to learn the dance.
Today, the Hoop Dance remains popular. It is generally performed by a solo dancer who begins with a single hoop, evoking the circle of life. Additional hoops are added representing other life elements, including humans, animals, wind, water, and seasons. The dance incorporates very rapid moves in which the hoops are made to interlock and extended from the body forming appendages such as wings and tails. Practiced by a number of tribes today, it has evolved over the years, becoming faster and incorporating many non-traditional influences. It has also become a highly competitive event, with the first World Hoop Dance Competition held at the New Mexico State Fair in 1991. Today, the most popular competition is held annually at the Heard Museum in Phoenix, Arizona, where up to 80 dancers participate before as many as 10,000 spectators.
http://www.legendsofamerica.com/na-dances2.html
hoop dancer 3min
http://ca.youtube.com/watch?v=46VIPeQvUj8
4 time champ
http://ca.youtube.com/watch?v=00cM_oeLI_4
Lisa Odjig
http://ca.youtube.com/watch?v=yKg8RQSv4LE